Rabies is a serious disease that is lethal if untreated. It can infect all mammals, including humans, and is transmitted through the saliva of infected animals.
The virus is widespread in that it can be found on all continents except Antarctica. In most countries, the risk of rabies comes from animal encounters.
In Canada and elsewhere, precautions against the virus are the same: avoid approaching any wild or unknown domestic animals — when travelling or even at home.
Rabies in Hamilton
The rabies virus is a concern in Hamilton and the larger province of Ontario.
In 2018, the province reported 108 rabies cases in 2018, 60 of which were discovered in Hamilton. In 2017, 66 of the 149 confirmed rabies cases in Ontario were found in the city.
Below is what Canadian travellers and anyone exposed to the rabies virus needs to know, including where to get the necessary rabies vaccines in Hamilton.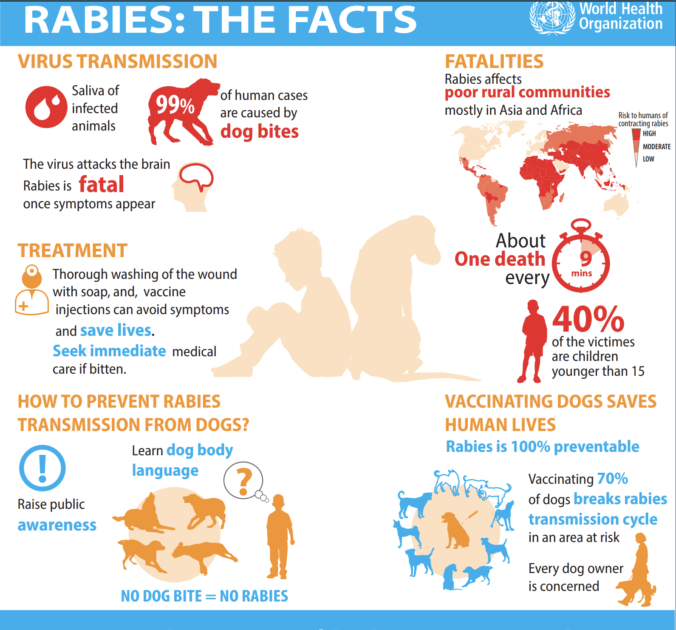 How Does the Rabies Infection Spread?
You can become infected with rabies if an infected animal bites or scratches you or the saliva of an infected animal gets into your eyes, nose, mouth, or any open wound.
However, you cannot get infected through contact with the blood, urine, or feces of a sick animal.
The risk of contracting rabies is lower in developed countries such as Canada. Yet in some parts of the world, including Africa, Latin America, and Asia, rabies is still a major problem.
Bats, dogs, foxes, skunks, and raccoons are the most common rabies carriers. However, cats and farm animals can also carry rabies.
What to Do if You Have Been Exposed to Rabies in Canada or Abroad?
We cannot stress this enough: if you get exposed to the virus IMMEDIATELY report to the closest hospital or your travel doctor.
Other immediate precautions you can take include washing the bite or scratch with soap and warm water or hand sanitizer if the former is not available.
You should also report the incident at the local public health unit, so the professionals are aware that there is a rabid animal in the locality that can potentially cause more harm.
Human Deaths from Rabies (2017)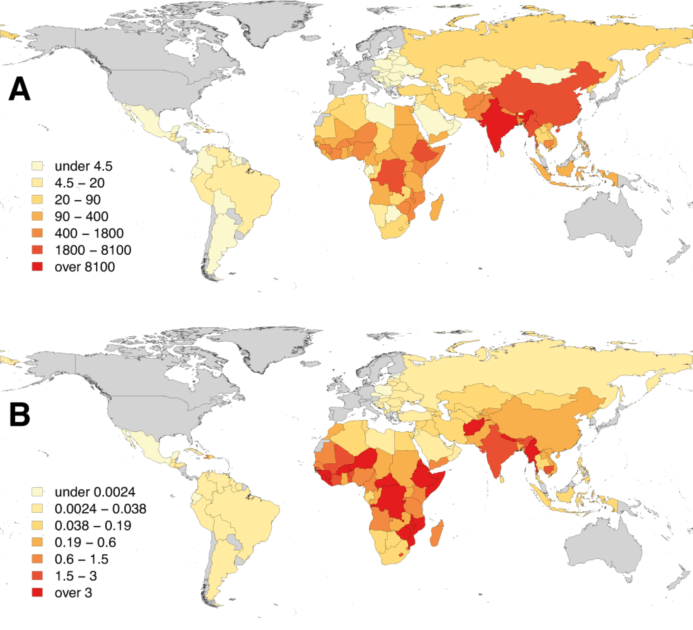 Signs and Symptoms of Rabies
Usually, the symptoms of the rabies virus will start to appear within 2 to 8 weeks after exposure. However, do not risk it and wait for the symptoms to appear. Once a person has signs of the rabies virus the outcome is almost always lethal. Thus, the rabies virus has one of the highest mortality rates in the world.
Early symptoms of rabies include numbness around the area of a bite, fever, headache, and feeling sick. Later symptoms include itchiness around the bite area, muscle spasms, fear of water and air gusts, and difficulty breathing.
Rabies Vaccine (Pre-exposure and Post-exposure Prophylaxis)
Rabies can be treated if you obtain the appropriate vaccine before the onset of symptoms. We will emphasize it again: after the symptoms start to show it is too late for the treatment.
There are two types of vaccines: post-exposure treatment and preventive pre-exposure vaccine.
The post-exposure vaccine will be needed immediately after the bite or scratch and in case the person has not received a rabies vaccination before. The vaccine consists of a dose of human rabies immune globulin and rabies vaccine given on the day of exposure and repeated on days 3,7 and 14. This makes a cycle of 4 vaccines, with little to no adverse effects. Swelling or redness around the vaccine area is possible.
The pre-exposure preventive vaccine is needed if a person is traveling to destinations where rabies virus is common or working in close contact with animals which might have acquired the rabies virus.
These people include veterinarians, animal handlers and wildlife officers as well as laboratory staff working with the rabies virus.
If you are travelling to a high-risk country for rabies, we recommend you visit The Travel Doctor in Hamilton and discuss your destination and activities.
Areas with notable rabies risk include India, China, Indonesia, Cambodia, Bangladesh, Myanmar, Brazil, Peru, and similar countries in Asia, Africa or Latin America.

Prevention of Rabies Virus at Home and When Travelling
When it comes to rabies, prevention is the key.
If you have any pets make sure to visit a veterinarian with your pet regularly and always keep the rabies vaccinations up to date for cats, dogs, and ferrets.
Also, do not let your pets off-leash and let them wander out of sight in the woods or other places rabid animals might be present. We recommend keeping your cats and ferrets indoors if you live in a rabies prone area such as Hamilton.
If you see any stray animals in your neighborhood that look ill or might cause threat, call animal control. Avoid touching wild animals or approaching them, especially because of the recent raccoon rabies outbreak. Also, avoid traveling with your pets to destinations where rabies virus is common to ensure your own safety.
Lastly, visit your travel doctor before any planned trips to discuss the necessary vaccines, as different areas of the world pose different health threats, including rabies. The Travel Doctor in Hamilton will provide the most up to date information on what Canadian travelers should know about rabies.
Take into account that if you are traveling to remote destinations immediate rabies post-exposure care might not be available, thus, to make your travels worry-free, prevention is the best approach.
Photo source: World Health Organization